How to plan for a successful small business exit
Melanie Richardson
17/07/2018
A survey by Securian has suggested that more than half of small business owners plan to leave their businesses within ten years, that but three-quarters of them have no plan in place to make a successful exit. This article will help you understand what an exit strategy is, why it's important and how to begin to put one in place. This article will help you plan for a successful small business exit.
What is an exit strategy?
An exit strategy is simply a plan to leave your business. This is in most cases a very positive thing, it means you're moving on and letting someone else take charge.
It is the plan for what will happen when you leave and how the business will carry on in your absence. It describes the transition and the form it will take.
There are several forms that an exit may take:
Selling your business to a competitor or larger company
Selling to a private equity firm or investor
Passing it on to a family member or selling your stake and let a partner take over
Arranging an employee or management buyout
Many factors go into the selection of the right route for you and your business so it is essential to think in depth about which option is right for your situation.
Why is an exit strategy important?
Circumstances can change quickly, what if you get an offer tomorrow? You need to take a step back for personal reasons? Or you have an amazing opportunity that lands in your lap?
Have you thought about retirement? What if your health deteriorates, you need to raise money fast or you simply have a change of interests?
If you haven't prepared in advance you can be overwhelmed and feel like you don't have the ability to take advantage of positive opportunities.
Creating an exit strategy means if and when anything changes in your circumstances, you are in the best possible position to calmly deal with the transition.
Goal setting
The first step in planning an exit strategy is to make sure that you are crystal clear on your goals. Every option has pros and cons, some options allow you to keep a part of the company and stay involved in the business; some give a better chance of the company surviving long-term while others risk it being broken up.
You should ask yourself:
Do you want to stay involved in the business or have a clean break?
Do you want to retain some control or give the new owners complete control?
Is it more important to get the best outcome financially? Or to leave the company in good hands?
These are not small questions and you need to be clear the effect your decision will have on the business, on you and your family and on the lives of your employees..
The best option FOR YOU
Once you know what your specific goals are you can start to align your plan with those goals. There are many options to choose from:
Passing the business to a family member
Selling to another company
Management buyout
Employee buyout
Hold an IPO
Close the doors and liquidate assets
Sell to a private equity firm
Sell to a business partner or investor
If you're planning for an immediate exit it might be prudent to focus on one option however, if you are planning generally for the future you might wish to scenario plan and take different options in the case of different circumstances.
Making a plan
We can help you understand your options and then implement your chosen course of action.
We can guide you through the process not only from a business perspective, but from the personal side as well. We've worked with many business owners over the years to help them exit their businesses their way and put them and their business in the best position possible for the future.
If you are thinking about how to exit your business successfully, get in touch with our Managing Partner Melanie Richardson to discuss the best options and strategy for your specific circumstance. Melanie heads up the corporate finance department, dealing with acquisition and disposal of companies, business group restructuring and corporate tax planning. She has extensive experience in handling successful business exits.
Melanie Richardson - Managing Partner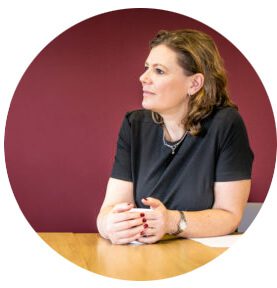 If you'd like to learn more about our approach to working with clients get in touch with Melanie directly on:
Email: melanier@swindellsaccounting.co.uk
Tel 01825 763366
Sign up to receive our private content
straight to your inbox